Subscribe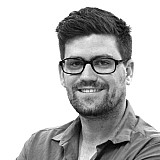 After a three-year stint as a factory Nissan driver, James Moffat is heading to Volvo for the 2016 V8 Supercars season. He talked Andrew van Leeuwen through the decision and the deal.
MOTORSPORT.COM: Let's start with 2015; good season or bad season? How do you describe it?
JAMES MOFFAT: Probably… somewhere in the middle to be honest. It probably wasn't a good season, but I wouldn't say it was a bad season either.
In many ways, what happened in Race 3 at Clipsal, getting caught up in that accident with two corners to go, sort of set the tone for the year. That's how I feel the year went for us. We've been wrong place, wrong time in a few races, and we've certainly missed a few opportunities along the way with some strategy things.
For most of the year, relative to my team-mates, the speed was generally always there. There were a couple of rounds where we were not on the money, and overall I'm a little bit disappointed in the year in terms of not having some more solid results. But that's just the way it goes sometimes. Sometimes it falls your way, and sometimes it doesn't. And I kind of feel that more often than not it didn't this year.
It hasn't been through lack of trying or effort. And I hate using bad luck as an excuse, because it's an easy cop out, but I feel on occasions that's just what we've had.
What do you take away from the three years with Nissan? Is there anything in particular that you learnt working in that team?
Yeah, there's a lot I can take away. One is working inside that four-car team environment, and the politics that come with that.
I feel that if I'd had the opportunity to work with [engineer] Perry [Kapper] from the start of things, it all might have gone a bit differently. Essentially I had a new engineer each year in my three years at the teams, and it's difficult to try and start a new relationship every season. Coming in there, trying to get Perry on board from the start, that was something that I tried to do so I didn't have to start a new relationship with an engineer as well as with a new team.
But I think also, coming into the team and having Rick [Kelly] as one of the drivers, and being able to step up and match him or beat him was something that was good. Especially for my confidence in the beginning. He's still a benchmark driver in the category, and going back to 2013 I really felt like I had to step things up to match him. And I feel like I was able to do that.
Even just seeing how he applies himself in and out of the car. It gave me a great opportunity to work on things myself and try and improve myself in all areas.
Were there personal expectations from a factory team deal like that that didn't quite materialise, as well?
Yes and no. I think going into it we all probably had high expectations. But honestly, the enormity of having to develop the engine and the cars at the same time was just a task that was so big, that it's probably meant that the results haven't been as strong as any of us hoped over the three years. At times there have been flashes of putting it all together, like the win at Winton, Bathurst in 2014, even seeing Rick with his podiums this year, and his pole at Darwin.
The car, at times, is definitely capable of getting the strong results that we all wanted.
Also, people probably underestimate the impact of having to effectively do an aero change every year. That has an impact on everything, because of the workload and time and money that has to go into it.
They will benefit going into this year not having to do an aero homologation; they'll be able to focus on other areas.
Talk me through the Volvo deal. I understand it all happened pretty quickly…
It did happen quickly. I spoke to Garry [Rogers] on the odd occasion throughout the year just to see where he was at, and he wasn't in a position to make any big decisions early or mid year.
Having said that, my intention all along was to stay at Nissan as well. Part of that was all the effort that'd gone into the Nissan programme, and wanting to see things through. Continuity is an important thing too. And from the point of view of working together on my car, that was a great experience for me, and I feel like we worked together really well as our little team.
From the team's perspective, they were open with me that they needed to secure some funding to keep things going. Around Bathurst it became obvious that not only was Garry getting closer to make a decision on drivers, but also from a Nissan point of view it was looking more and more unlikely that we were going to be able to do something. They weren't able to secure the funding for my car, and I'd got wind that maybe Jack Daniel's was looking to pull out.
That set off alarm bells, because they weren't just worried about finding a sponsor for my car, but for Rick's car too. And understandably the priority was going to be with Rick, because at the end of the day it's a family business – and I completely get that side of things.
I felt like I was pretty upfront and honest with Rick. I told him were I was at, and I was obviously keen to make sure I kept a seat in the championship. To his absolute credit he was equally open and honest with me, and that's when I started speaking to Garry pretty seriously.
Fortunately for me he was happy to talk to me seriously as well, and the deal came around pretty much immediately after Bathurst.
In the long run, it might mean that things have turned out for the best. Of course it would have been nice to stay at Nissan, but I think the two-car environment at Volvo will probably suit me better. I'm looking forward to getting back into a smaller team, and working as hard as possible with the guys.
Scotty [McLaughlin] and I will work well together too, I think. It's pretty well documented that we're mates, which we are, and I don't think that'll get in the way of anything. I think it's actually a good thing, because as team-mates you spend a lot of time together, so if you on well it makes things easier.
Speaking of Scott, he's obviously super quick, but you're going to be his biggest challenge in terms of a team-mate so far. How do you feel going into that? Confident of matching him and beating him?
Yeah, I certainly believe that I'm capable of matching Scotty, if not beating him. I'm sure if Garry didn't think that way, then I wouldn't have got the gig.
I will definitely be able to push him, and there's not doubt he's going to push me too. That's going to be a good thing for both of us, and it'll be a good thing for the team.
If we can get both cars running somewhere near the front, that's just going to motivate people more to keep pushing and develop the cars and make things better.
He's been a bit of a lone ranger at the front of the field the last couple of years, not to disrespect the other guys that have been in car #34, but hopefully we can help each other out at the front of the field.
This is a front-running car, and this is your best chance of consistently running at the front. Does any pressure come with that?
I agree with you that this is my best opportunity to show what I believe I'm capable of doing. I feel like I'll have the car and team behind me. But from my point of view there is always pressure to perform, every time I hop into a racecar. I try 100 percent every time, that's just how I'm wired. Sometimes that might be a bad thing, sometimes it's a good thing.
I think there is always pressure, and that pressure will probably come from myself more than anything – because I want to do as well as I can.
This season I'll just focus on doing the absolute best I can, and hopefully that's good enough. If it's not, I'll try and work harder and come up with ways of improving myself.
There is clearly going to be a bit of a learning phase for me with driving the car; obviously it will require a different driving style. But I'm coming in with a solid team-mate to bounce off. I'll have his data to look at, and I feel confident that I'll be able to get on top of the car pretty quickly.
I've never been one to make bold predictions on this or that, I'll just work as hard as I can in the off-season to come back stronger and fitter than I am now, and put everything into it.