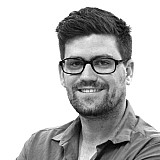 Between a $25,000 fine, a rather public intra-team rift, and challenging for the title, it was wild year for controversial V8 Supercars star David Reynolds. He reflected on it all with Andrew van Leeuwen.
AVL: Let's start with the biggest positive from 2015; from a performance standpoint, your best year yet. Was that just down to the car, or did you lift your game as well?
DR: The majority of it was down to the car, if I'm brutally honest. That was the biggest difference this season. They call it motorsport for a reason…
So you weren't driving any better than any other year?
Well… I did put more focus into preparing better for each round this year. I worked with a sports psychologist, I mixed up my training a little bit, things like that. I went into each round a lot more prepared than I ever was in the past.
I think that did make a difference, coupled with having a much faster car than I'd ever had before. That brings it all together.
You were told, publicly, at the start of the year that your job was under threat. How tough was it to go out and perform under that sort of pressure? Did it have an effect on you?
Yeah, definitely. Any time somebody threatens your job, and your livelihood, that's going to put pressure on you.
In reality, you're driving for your career every single season. But it's a lot different when that's been spoken out loud.
There was a feeling all year that it was an awkward relationship between you and Prodrive. How was it in reality? Was it uncomfortable between you and the whole team or just you and specific people?
It was probably just me and… one or two people at the top. I got on really well with nearly all the staff there. It wasn't awkward, but all of the uncertainty did create an air of awkwardness. In that scenario, you don't know who is batting for you and who isn't. But in the end, you work it out.
Talk me through the whole process. Were you completely in the dark, or were you being given mixed signals? Why did you wait so long to make a decision?
We spoke every now and then about what they were trying to achieve, securing a spot and so on. I knew that they wanted me for 2016, but that there wasn't necessarily a seat for me. I always kind of knew that, but I kept holding on in case the opportunity to stay did come up.
Did you hold on too long?
Yeah, probably.
Was turning down Brad Jones Racing just down to the timing? Or were there other factors that led to you deciding to not make the call and sign on?
I reckon it was mostly timing. I wasn't really ready to sign because I hadn't put things with PRA [Prodrive Racing Australia] to bed yet. The other party didn't want to wait, so I had to make a decision. To leave something behind you have to be ready to move on, and I wasn't ready to move on.
At what point did you realise that it wasn't going to happen with PRA?
The deadline was the week after Bathurst. I knew it was going to be a long-shot even before Bathurst, because it was dragging on a lot and there wasn't a lot of communication. After Bathurst, there were still no phone calls, no discussions… and that's when I knew I wasn't going to be staying there.
Did you make the decision to leave then? Or were you told to go?
I was never told, no. I went and looked for another deal myself.
At which point did Erebus come onto the scene?
The week after Bathurst. They were going through their own situation with Will [Davison] and the uncertainty of what he was doing. So they were waiting on him to say officially that he was going before they could sign me. That was fortunate timing, really.
What was the process with Erebus? How did that deal get kick-started?
My manager did the majority of the deal. And then during the Gold Coast weekend I went to see Betty [Klimenko, Erebus co-owner] and had a good chat with her about it. We basically made an agreement, and then a few weeks later signed the deal.
Erebus is a team going through a transition at the moment, with its move to Melbourne. What is your take on all of that? Will there be benefits to streamlining operations, do you think?
Absolutely. They have a good workshop down here with the GT factory. So it makes sense to bring everything together and have one big factory.
The reality is that next year will be different. You probably won't be fighting for wins quite as often as you were this year. Are you still excited for a new challenge and a new opportunity?
Yeah, I'm really excited. A change is as good as a holiday. I'd been with Prodrive for four years, so I know the place inside out, but it will be nice to start with a clean slate. It will be a weird feeling, but once we get a few races under our belt it should be smooth sailing.
I've worked with Barry Ryan and Campbell Little before, and we get along really well. And I get along like a house on fire with Betty, she's great. So it should be good fun to go racing.
A few months on, how do you look back on the whole 'Pussywagon' saga? How did that affect your year?
It was expensive. The fine was ridiculous, to be honest. I would have taken a $5000 fine very seriously, but $25,000 is a joke to me.
You walk a fine line when it comes to your profession, because you're a unique personality – which is good for the sport – but going too far is so easy…
It's hard. I understand why drivers don't say anything, or try and be anyone interesting, or stand for anything. It's too risky. There are 25 drivers in our sport, and they're all radically different people. But they all say the same stuff at each press conference. It's kind of boring when you sit back and watch and listen to interviews.
Is your plan to just keep on being David Reynolds?
That's the only person I can be. I have learned from what happened, and I won't make jokes anymore – because $25,000 is a lot of money. But I don't want to be boring, either. I'll just be myself as much as I can, I guess.
Final question. Was 2015 a good year or a bad year?
Great year. Loved it.