Subscribe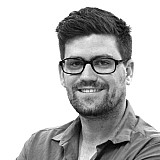 Russell Ingall will make a remarkable switch from Holden to Ford next weekend, to partner Cameron Waters in the #6 Prodrive Racing Australia on the Gold Coast.
The racer-turned-TV pundit made a comeback to the driver's seat for the Sandown and Bathurst 1000 events, replacing the injured James Courtney at the Holden Racing Team.
Now, he will make an incredible switch from red to blue, lining up in a Prodrive Falcon for the Gold Coast 600 as a replacement for Chaz Mostert, who is sidelined with a broken leg and wrist from his Bathurst crash.
"Thankfully with the format of racing, when the races are actually on myself, Mark Skaife and Jessica [Yates] hand over to the commentary team so it's actually worked in quite good that they've allowed me to do this," said Ingall.
"It brings more of an insight into what happens behind the scenes with some of these top race teams and obviously Prodrive at the moment is the top team and it's the one everyone's chasing so it's going to be good to actually get in and find out the reasons why they're doing all this winning.
"It's going to be great a part of that to jump in with Cam and also give an evaluation on that because obviously Cam's hot property at the moment and I know how he feels when I got into the championship out of the gate. It can be daunting. Hopefully I can give him some advice on both sides of the seat.
"There'd be no reason at all why we couldn't get a pretty reasonable result; definitely a top five result."
Ingall's appointment at PRA could be bad news for HRT. Whether or not Courtney will be fit enough to race on the Gold Coast has not yet been confirmed. Should he not be able to race, the Holden factory team will be forced to find another replacement to join Jack Perkins in the #22 Commodore.