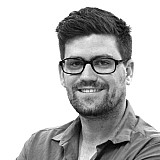 The Holden Racing Team today took the covers of its 'Light Side' Star Wars livery that will run on the #22 Commodore at this year's Bathurst 1000.
The livery is the second Star Wars inspired livery, the 'Dark Side' version that will run on Garth Tander and Warren Luff's entry having being unveiled last week.
This version of the livery will be raced by either James Courtney and Jack Perkins, or Perkins and Russell Ingall should Courtney's efforts to get fit for the Great Race fall short following his rib and lung injuries sustained at Sydney Motorsport Park.
"The Star Wars designs look great, but mine's definitely better than Garth's – I'm glad to be the good guy and have Garth as the baddie," Courtney said.
"The team has done a sensational job, this is the most out-there livery HRT has ever had."
Courtney decision still open
While the chances of Courtney racing at Bathurst seem unlikely, particularly given the length of the race and Bathurst's demanding layout, he has not yet ruled out taking part.
A final scan this week will determine if it will be Courtney, or Ingall in the #22 at Bathurst when action gets underway next Thursday.
"It's been a painful experience but my recovery is going well," said Courtney.
"It's been five weeks since the incident and I've had a lot of specialists overseeing me and give me the best chance of coming back for Bathurst.
"Your body takes on so many forces across the top of The Mountain, and if the ribs aren't healing properly, one could break again and cause a hemothorax, which is a lot more serious than my initial injury.
"We're pressing on as hard as we can. I've got a final scan this week to see how the bones are healing. After that we make an informed decision about Bathurst."