Subscribe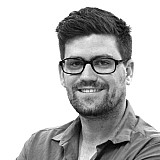 Craig Lowndes says his heavy hit in qualifying for the Sydney 500 last year opened his eyes as to how hard the tricky street circuit can bite.
The Triple Eight driver crashed during the first qualifying session at the Homebush circuit last year, injuring several ribs and putting him on the back foot for the remainder of the weekend.
He wound up finishing the weekend with a 13th, 20th, and 17th from the three races.
Heading into this year's Sydney 500 with the V8 Supercars title on the line, Lowndes says the 2014 shunt serves as an ongoing reminder of how easy it is to get the Homebush circuit wrong.
"Sydney Olympic Park is an interesting street circuit, and it's obviously designed for close racing," he told Motorsport.com.
"The concrete walls are very close to you, you don't have to do something majorly wrong to be in trouble.
"Last year I had a big crash in qualifying, one of the biggest crashes I've had in a long time. Going into Turn 5 I clipped the inside wall slightly, which spat me straight over into the outside wall.
"I think it was a bit of an eye-opener; you're pushing the envelope, you're pushing the car to its limits, but of course it doesn't take much to go over that line and hurt it.
"It's a circuit where at the end of the day it's a great feeling to stand on top of the podium, because it really is a tight, tough circuit to get right."
Lowndes goes into the Homebush weekend needing to overcome a 179-point deficit to Mark Winterbottom if he is to snatch a fourth V8 title.