Get alerts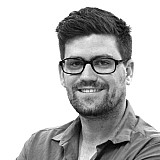 Holden has confirmed the homologation of the Colorado for the new SuperUtes category in Australia, and released the first render of the turbo diesel SUV in race trim.
The Colorado is one six models that will be eligible and homologated for the new-for-2018 series, which will see dual cab utes, with a 340 horsepower limit and a minimum weight of 1800 kilograms, competing on the Supercars support card.
The first race-ready Colorado is currently being built by Ross Stone Racing, and will be prepped with the CAMS-approved control roll-cage, pedal box, ECU, gearbox and ratios, rear axle assembly with control diff and ratio, brakes, tyres, wheels, springs and dampers.
"SuperUtes is an exciting new racing series and supporting Australian motorsport has been an important part of Holden's heritage, so we are delighted to homologate Colorado for the series," GM Holden General Manager – Brand, Media and Sponsorship, Emma Pinwill said.
"Colorado has been engineered to handle anything thrown at it by our customers, from inner city and suburban roads to rural highways, dirt roads, and off-road.
"The race track is no different and we are confident Colorado will carry on Holden's winning tradition."
The Colorado joins the Mitsubishi Triton – which has already began testing – the Ford Ranger, the Mazda BT-50, the Toyota HiLux, and the Isuzu D-Max in the eligible model range.
"Holden has been such an integral part of Supercars rich history, so it goes without saying that we are delighted to welcome it to the SuperUtes ECB Series," Supercars Chief Executive Officer James Warburton said.
"The Holden Colorado is now officially homologated and will take on five different manufacturers in what is shaping up to be an outstanding series.
"With official testing having commenced last week and six models approved for racing, the SuperUtes Series will commence in 2018 with a very strong field and what will be great racing."