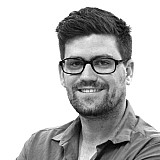 Super Black Racing has confirmed that Chris Pither will race its Falcon at next weekend's Sydney 500, and will stay on with the team for the 2016 season.
Pither raced the SBR car for the first time at Phillip Island last week in place of regular driver Andre Heimgartner, with the team confirming then that the plan was to evaluate him ahead of a 2016 deal.
Now that deal has been formalised, with Pither officially signed on a full-time deal that will start in Sydney next week.
"He did a great job at Phillip Island. He's got a good knowledge of cars and set-up and worked really well with the team," said SBR boss Tony Lentino.
"We're excited to have him on board for next year and see how he develops as the year goes on.
"He has a wealth of experience so we're excited to see where it goes. We have high hopes."
SBR seat the right step up
According to Pither, the SBR seat presents the perfect opportunity for him to make that final step from the Dunlop Series.
"Being asked to drive the car at Phillip Island and work with Super Black was such a great opportunity and one that I thoroughly enjoyed," said Pither.
"I'm really excited to have the chance to work with them and hopefully we can get some good results.
"It's great to step up from the Dunlop Series into the main game but the level of competition is completely different.
"I am looking forward to working hard and doing the best that I can for the team."
The SBR drive is Pither's first full-time gig in the main game.