Get alerts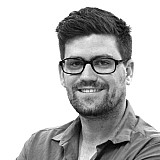 Todd Hazelwood says he probably wouldn't have walked away from his violent Sandown crash without driver safety developments such as the HANS device and Supercars' new leg protection systems.
Hazelwood survived a 260 km/h shunt during Saturday's co-driver race at Sandown, his Brad Jones Racing Commodore flipping violently after he was tipped into a spin by Jonathon Webb.
While his car was destroyed – and virtually void of body panels by the end of the impact – a muddy Hazelwood emerged from the wreck unscathed save for some bruising.
He was even fit enough to be back in his Super2 car less than an hour later.
The crash coincided with the compulsory introduction of new leg protection measures, designed to stop drivers from sustaining injuries from the exposed gear shift.
Without those measures, and others like it such as the HANS device that have been introduced over the last decade, Hazelwood says the story could have had a very different ending.
"To be honest, I'm very thankful for all of those safety implications that have been put into the cars of today," said Hazelwood.
"If you had an incident like that five years ago, or 10 years ago, I probably wouldn't be strapping into a racecar half an hour later, or talking to you guys right now.
"It's a huge credit to everyone involved who's made the cars as safe as what they are now.
"I was pretty conscious when I was going off that it was going to be a pretty big one and tried to brace myself in the best way I could. I took my hands off the wheel and tried to push my legs as hard as I could on the pedals knowing that it has, recently in the past, been pretty nasty incidents with the legs rattling around.
"The new leg protection that has been implemented weekend did its job. I'm very lucky that the HANS device, and the harness, did its job perfectly and I was able to walk away."
BJR has began building a replacement chassis for Blanchard and Hazelwood, which the pair will race at Mount Panorama in a little over a fortnight.