Subscribe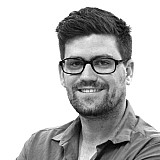 Garry Rogers Motorsport has confirmed that David Wall will drive one of its Volvos at Sandown, Bathurst, and on the Gold Coast in 2016.
Last month the team announced that Wall won't be kept on as a full-time driver next season, with Nissan's James Moffat to replace him in the #34 Volvo in 2016.
However, it has now been confirmed that Wall will stay with the team next year in an endurance driver role – although alongside which of the full-timers won't be decided until a second co-driver is officially signed.
"We've got him in there," Rogers confirmed to Motorsport.com. "Who he'll be driving with we don't know, we'll make that decision when we know who else we've got."
According to Rogers, the biggest advantage of retaining Wall for the three endurance races is that he is familiar with the team and how it operates.
"Knowing the cars doesn't really matter, driver always adjust to the cars in time," Rogers added.
"That doesn't really come into play to be frank. But what is good is that he understands our team."
At this year's enduros, the team employed Alex Prémat to partner Scott McLaughlin, while Chris Pither drove alongside Wall. With Pither likely to end up in a full-time seat elsewhere, the most likely option is that Wall will slot in alongside Moffat in the #34 car for the 2016 enduro season.