Get alerts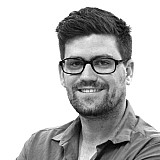 Shane van Gisbergen will run last in this morning's Top 10 Shootout on the Gold Coast, after topping qualifying ahead of Jamie Whincup.
Van Gisbergen stamped his authority on the session just after the half-way mark, laying down a two laps stint that saw him go fastest with a 1m11.352s.
He then improved on that time during the typical last-minute rush of quick times, a 1m11.091s enough to hold off a serious late challenge from Whincup, just 0.013s separating the soon-to-be-team-mates at the end of the session.
"The car is just awesome," said van Gisbergen. "Hopefully we can do it again in the Shootout. The car is quick enough maybe to do it on old tyres."
Behind van Gisbergen and Whincup, Nissan driver Rick Kelly booked his own Shootout spot with an impressive 1m11.141s to go third fastest, less than a hundredth ahead of Volvo's Scott McLaughlin, who actually set purple times in Sectors 1 and 2 on his final lap before falling short in S3.
Tim Slade, points leader Mark Winterbottom, James Moffat, and Garth Tander also locked down Shootout spots.
Title contenders Craig Lowndes and David Reynolds did manage to make it in to the Shootout, but did it the tough way. Lowndes was actually outside the Top 10 when the chequered flag came out, but managed to sneak in to ninth on his last lap, while Reynolds slipped to within 0.045s of missing out, that being the gap back to Nick Percat in P11.
| | | | | |
| --- | --- | --- | --- | --- |
|  Pos |  Driver  |  Car  |  Time  |  Gap |
| 1  | S.van Gisbergen | Holden | 1:11.0913 |   |
| 2  | Jamie Whincup | Holden | 1:11.1046 | 0.0133 |
| 3  | Rick Kelly | Nissan | 1:11.1416 | 0.0503 |
| 4  | Scott McLaughlin | Volvo | 1:11.1439 | 0.0526 |
| 5  | Tim Slade | Holden | 1:11.3031 | 0.2118 |
| 6  | M.Winterbottom | Ford | 1:11.3625 | 0.2712 |
| 7  | James Moffat | Nissan | 1:11.4024 | 0.3111 |
| 8  | Garth Tander | Holden | 1:11.4407 | 0.3494 |
| 9  | Craig Lowndes | Holden | 1:11.4646 | 0.3733 |
| 10  | David Reynolds | Ford | 1:11.4760 | 0.3847 |
| 11  | Nick Percat | Holden | 1:11.5206 | 0.4293 |
| 12  | Jason Bright | Holden | 1:11.5252 | 0.4339 |
| 13  | James Courtney | Holden | 1:11.5684 | 0.4771 |
| 14  | Fabian Coulthard | Holden | 1:11.6169 | 0.5256 |
| 15  | Scott Pye | Ford | 1:11.6595 | 0.5682 |
| 16  | Will Davison | Mercedes | 1:11.7775 | 0.6862 |
| 17  | Lee Holdsworth | Holden | 1:11.8277 | 0.7364 |
| 18  | David Wall | Volvo | 1:11.8389 | 0.7476 |
| 19  | Cameron Waters | Ford | 1:11.8447 | 0.7534 |
| 20  | Tim Blanchard | Holden | 1:11.9623 | 0.8710 |
| 21  | Todd Kelly | Nissan | 1:11.9624 | 0.8711 |
| 22  | Michael Caruso | Nissan | 1:12.0617 | 0.9704 |
| 23  | Dale Wood | Holden | 1:12.1364 | 1.0451 |
| 24  | A.Heimgartner | Ford | 1:12.1609 | 1.0696 |
| 25  | Ashley Walsh | Mercedes | 1:12.3206 | 1.2293 |