Get alerts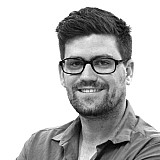 Friday pace-setter Tim Slade says between Barbagallo Raceway's abrasive surface, and V8 Supercars' practice tyre allocation rules, practice means nothing in Perth.
Slade went fastest in the second of the hour-long sessions at the West Australian circuit today, setting his time on the first lap of a short stint on the softer compound Dunlop tyres, which will be used during Sunday's 200 kilometre final race.
While he agreed that it was better to be first than last, he added that practice positions are essentially pointless on such a low-grip circuit unless drivers are given an even tyre allocation.
"To be honest, there is no real point having anything like this, at a track like this, if we're not all on the same tyre. So who knows where we are at," he said.
"It gets worse here, year after year. On the track walk yesterday it looked quite abrasive, the worst I've ever seen it.
"So when you come here with flogged out tyres, they don't feel great to start with and they drop off pretty quick as well.
"It's hard when we come up to [the press conference], and it doesn't feel genuine because we know other people didn't run the same tyres. It would be nice if everyone did run the same tyres and we were up here, but that's how we think.
"It's not an issue with the track, and the tyres are what they are, but you come to a thing like this and it doesn't feel genuine."