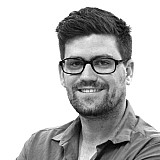 Volvo's V8 Supercars squad has gone with a fresh look for the 2016 season.
The new livery features significantly more white than last year, while the team has gone with a unique font on the numbers fixed to the side and front windows.
"To be totally honest I wasn't sold on the idea, but I must admit that the end product with my own special touch on the numbers has made me reconsider my earlier reservations," said team boss Garry Rogers.
"Car liveries are very difficult as you are often damned if you do and damned if you don't make changes. I believe that our Volvo over the past two seasons has looked great and has been easily identifiable, but I also understand that both the fans and the sponsors like to see and often expect a new look every season."
The team goes into the new season with a new driver, James Moffat having joined from Nissan. It will also run an expanded Dunlop Series programme, with James Golding staying on, joined by Richard Muscat.