Get alerts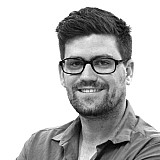 The Holden Racing Team has unveiled a special 25th anniversary livery for this weekend's season-ending Sydney 500.
With HRT's 25th anniversary season coming to an end, the team has opted to run a one-off livery that pays tribute to the 230 Holden dealers in the national network, with each of the dealership names featuring as part of the paintwork.
"The Sydney 500 car came about from design ideation back in April; I had a rough concept based around the colours and HRT's 25th anniversary logo, and I wanted to create something different that really celebrated the team's rich history," said Holden designer Peter Hughes.
"The suggestion for Holden's dealer names to be subtly incorporated into the livery was actually a request from [Holden Sponsorship and Motorsport Manager] Simon McNamara, who wanted to say thank you to our dealer network and give them due recognition for their commitment to Holden, and HRT over its 25 years.
"I think that's a really nice touch, and adds a classy element to what is an aggressive livery – and it all adds up to a scheme we know HRT fans will love."