Subscribe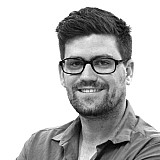 Ford Performance boss David Pericak has reportedly ruled out any chance of the brand retaining a factory presence in V8 Supercars.
Ford Australia has been scaling back it's involvement in the sport over the last couple of season, with its withdrawal as a manufacturer completed at the end of 2015.
However, as exclusively revealed by Motorsport.com last year, there has been a glimmer of hope for the future in the form of Ford Performance in the US.
But that door now appears to be closed as well, with Pericak telling motoring.com.au in Detroit that there won't be any funding put into V8s.
"We don't see that at the moment and it's not in the future plans," he told the motoring website.
"People want us to race nearly every category around the world and we just can't do that.
"Where we participate needs to be a good return on our investment and what we are trying to achieve with racing.
"We are not racing just to race. We are racing to make sure we learn, we develop new tools and we develop our engineers. And obviously we use that to bring it into the product development of the cars we put in peoples' driveways.
"So that is a series we have decided doesn't fulfil all of those needs and that is why we have decided to exit that series.
"Roger [Penske] is a great partner and we wish him all the best and we hope that he continues to win but we don't plan on participating.
"They talk to us about where they are and we stay boxed up along the way with them and what they are doing. But there is no pressure coming from the Penske team. They know we have exited, they respect that and they haven't been pressuring us."
Pericak added that even the new-for-2017 Gen2 rules – which would, for example, cater to a twin-turbo Mustang racer – hold little appeal.
"We are always open for review spending change but I would say V8 Supercar racing doesn't serve our need and give us the biggest return on our investment," he added.
"We are going to invest even deeper in the areas where we think it does help us but that is just not an area that is a priority for us."