Subscribe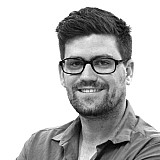 Ford is adamant its plans to withdraw from V8 Supercars racing remain unchanged, despite rumours of a Ford Dealer Team looking to keep the racing programme alive.
The Blue Oval has scaled back its involvement in V8 Supercars for the 2015 season, with a full withdrawal planned for the end of the season. That leaves the shelf-life of the new-for-2015 Falcon FG X racer, currently run by Prodrive Racing Australia and DJR Team Penske, up in the air.
Today a news report surfaced that a group of Ford dealers are working on putting together a $1m budget to keep Ford's V8 Supercar programme alive, and is asking the manufacturer itself to stump up and extra million.
"The dealers are prepared to fund half the amount required to run a factory team,'' an anonymous source was quoted as saying by a News Corp Australia report.
"They have asked Ford to match their commitment and come back into the sport.''
However, it would seem that Ford is unmoved by the news. Motorsport.com contacted Ford Australia for comment, with a spokesperson confirming that there are no changes to the brand's motorsport plans.
"We are absolutely committed to serving our customers by investing more in our products and consumer experience, including 20 new vehicles by 2020 and our new free loan car program for scheduled service," was the response.
"Our racing plans remain the same."