Get alerts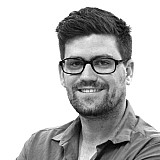 Ford Performance in the US hasn't closed the door on keeping the brand alive as a V8 Supercars manufacturer, Motorsport.com can reveal.
As has been widely reported, Ford Australia will complete its withdrawal from the sport at the end of this season, with the former factory squad having already changed its name from Ford Performance Racing to Prodrive Racing Australia.
Rumours have recently surfaced that DJR Team Penske owner Roger Penske has called on Ford Performance in the US to come to the brand's rescue in terms of its Australian motor racing programme.
Now, Motorsport.com can reveal that Penske has genuinely been discussing the issue with Detroit, and that V8 Supercars is indeed on Ford Performance's radar.
"I'll give you the same answer that I basically gave Roger; as Ford Performance, we are assessing our entire racing strategy and portfolio, and understanding what series that we want to actually participate in, and that best support the goals of Ford Performance and the Ford Motor Company," said Ford Performance director Dave Pericak.
"We have not finalised that yet, we're in the process of doing that.
"Whether or not [V8 Supercars] is going to make its way into the overall spend that we want to make, and the contribution to the company, is yet to be seen. We'll let you know when we have more to talk about."
Relevance the key
According to Pericak, relevance to the car market is key to the survival of a factory V8 Supercars programme.
"I think there is a good market [in Australia]," he told Motorsport.com.
"It's just whether or not we feel that we can learn from racing, because again this is about learning.
"Racing for us, yes we want to win, yes we go out on the track to win every weekend… but it's also what can we learn, and how can we put that back in to the products that we put in people's driveways every day.
"If the series is relevant to that, and it supports that goal, then we'll participate."
V8 Supercars will switch to its Gen2 regulations in 2017, which will allow teams to run four and six cylinder engines, and two-door body shapes. That would potentially open the door for Ford to bring its EcoBoost technology into play if it were to develop a Mustang V8 Supercar.
Currently, there are just five Fords on the V8 grid; four running out of the PRA stable, and the lone DJR Team Penske car.
Additional reporting by Lee Spencer