Get alerts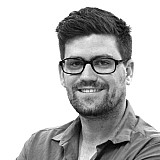 Dunlop is planning a high-tech investigation into failures suffered by the Supercars soft compound control tyre at Albert Park and Phillip Island.
Following a pair of failures during the final non-championship race at Albert Park, the new-spec soft compound tyre attracted the wrong kind of attention today with three high-profile failures during practice at Phillip Island.
While Fabian Coulthard (first session) and Shane van Gisbergen (second session) both avoided damage from their failures, Craig Lowndes's day was cut short when a right-front failure at the Hayshed at the end of the first session pitched his Triple Eight Commodore into the wall at speed.
Having warned teams to be gentle with camber at Phillip Island – a circuit notorious for being tough on rubber – Dunlop's Supercars Operations Manager Kevin Fitzsimons reckons it's difficult to say what is causing the failures without a detailed investigation.
That involves sending both new and used tyres to Japan or Thailand to be tested in a shearographer, which effectively acts like an x-ray, something that Fitzsimons says he'll consider after this weekend.
"We need to have a good look tomorrow in the race because no one has done a lot of laps yet," said Fitzsimons.
"You can't be aggressive at this place [with set-up]. The tyres aren't bulletproof but they're not designed to be bulletproof.
"The tyres may have had damage prior to coming here that you can't see. It may even be the bead breaker where you break the bead of the tyre to turn the tyre on the rim.
"We can't do anything about it this weekend but I'm going to experiment with a couple of tyres and put them in a shearography machine and send them overseas and get them to see if that's possibly the issue and go from there.
"[The shearography testing] can actually show if there's fractured chords in the tyre. We'd consider doing it on new and used tyres just to get a bit of a handle on outside influences to see what else it can be.
"We need to make sure we have this well and truly sorted before we get to Bathurst."
The tyres will get an even bigger workout over the next two days, with a pair of 250-kilometre races.