Subscribe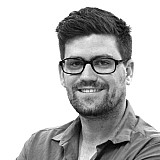 Paul Dumbrell took a comfortable win away from today's first qualifying race at Sandown, giving Jamie Whincup pole position for this afternoon's second race.
The Triple Eight driver wasted little time making his way to the front, being gifted one spot when first-lap leader Cameron Waters ran wide at Dandenong Road, before barging past Steve Owen at the beginning of Lap 2.
Once in front, it was a straightforward race for Dumbrell. He quickly built a gap, before ultimately cruising to a 7.1s win.
As a result, Jamie Whincup will start the #1 Commodore from pole in this afternoon's crucial second qualifying race.
Owen finished a reasonably lonely second in the #5 Prodrive Falcon, with no answer to Dumbrell's pace, but enough to keep the #6 Falcon of Waters behind him.
Owen's cause was helped in the closing laps by Tekno Autosport's Jono Webb, who was firmly glued to the back of Waters' car in search of a Top 3 spot. However, when Webb ran wide on the final lap he gave up not only his chances of passing Waters, but lost P4 to Dean Canto in the #55 Prodrive entry.
Russell Ingall put in an impressive drive to finish sixth, with Tony D'Alberto a quiet achiever on his way to seventh, ahead of Marcos Ambrose.
Sebastien Bourdais was the best of the overseas drivers, coming home 11th. The Frenchman may even have fared better if it wasn't for a hip-and-shoulder from Webb on the run to Turn 1 on the first lap, which saw him drop back to the midfield.
With a field full of non-regular drivers, there was plenty of action. The first major contact came on Lap 2, when Alex Buncombe and Chris Pither got together down at Dandenong Road. They managed to get going again, finishing 21st and 23rd respectively.
Macauley Jones, however, wasn't so lucky. He wound up stranded in pit-lane after a coming together with Alex Premat while on the fringe of the Top 10, the BJR Commodore finishing the race 25th and last. Premat managed to get going again, bringing the #33 Volvo home 22nd.
The main drivers will start the second qualifying race in the same position their car finished the first, with the results of Race 2 determining the grid for tomorrow's Sandown 500.