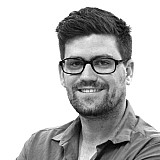 Triple Eight's Paul Dumbrell set the pace in the third V8 Supercars practice session on the streets of the Gold Coast, despite his session being cut short by a vibration issue.
Dumbrell was the odd one out in the 30-minute session, setting his best time on just his fourth lap with a 1m11.268s. He then completed just six more laps before parking the #1 Commodore for the remainder of the session to allow the team to work on a vibration issue.
"To get it right for Jamie's session later this afternoon, we pulled up stumps for me," he explained.
"To make sure we can change a few things in the car we had to stop it early.
"The car is really good, good on hard and on soft tyres, so hopefully J-Dub agrees and puts a few fast laps in this afternoon."
Steve Owen was second fastest, having switched to the soft tyre late in the session. The Prodrive driver, who has the responsibility of sharing with points leader Mark Winterbottom, put in a two-lap stint at the end on the softs, but still fell 0.09s short of Dumbrell's time.
The majority of the quicker times came late in the session as drivers switched to the soft Dunlops, with Marcos Ambrose jumping to P3 right at the flag, ahead of Jack Perkins, Jono Webb, and Russell Ingall.
Alex Premat was seventh fastest in the Volvo, while Oliver Gavin – who crashed the LD Motorsport Commodore in FP2 – responded well to go eighth fastest ahead of Bathurst winner Steven Richards.
| | | | | |
| --- | --- | --- | --- | --- |
|  Pos  |  Driver  |  Car  |  Time  |  Gap |
| 1  | Paul Dumbrell | Holden | 1:11.2680 |   |
| 2  | Steve Owen | Ford | 1:11.3603 | 0.0923 |
| 3  | Marcos Ambrose | Ford | 1:11.4231 | 0.1551 |
| 4  | Jack Perkins | Holden | 1:11.6727 | 0.4047 |
| 5  | Jonathon Webb | Holden | 1:11.8754 | 0.6074 |
| 6  | Russell Ingall | Ford | 1:12.1151 | 0.8471 |
| 7  | Alexandre Prémat | Volvo | 1:12.1266 | 0.8586 |
| 8  | Oliver Gavin | Holden | 1:12.2301 | 0.9621 |
| 9  | Steven Richards | Holden | 1:12.2699 | 1.0019 |
| 10  | Tony D'Alberto | Holden | 1:12.3885 | 1.1205 |
| 11  | Alex Buncombe | Nissan | 1:12.4243 | 1.1563 |
| 12  | Warren Luff | Holden | 1:12.4681 | 1.2001 |
| 13  | Luke Youlden | Holden | 1:12.5897 | 1.3217 |
| 14  | Dean Canto | Ford | 1:12.6018 | 1.3338 |
| 15  | Karl Reindler | Holden | 1:12.6239 | 1.3559 |
| 16  | Chris Pither | Volvo | 1:12.6431 | 1.3751 |
| 17  | Alex Davison | Mercedes | 1:12.6887 | 1.4207 |
| 18  | David Russell | Nissan | 1:12.6997 | 1.4317 |
| 19  | Dean Fiore | Nissan | 1:12.7183 | 1.4503 |
| 20  | Taz Douglas | Nissan | 1:12.7868 | 1.5188 |
| 21  | S.Bourdais | Holden | 1:12.9691 | 1.7011 |
| 22  | Macauley Jones | Holden | 1:13.1369 | 1.8689 |
| 23  | Jack Le Brocq | Mercedes | 1:13.3301 | 2.0621 |
| 24  | Andrew Jones | Holden | 1:13.4857 | 2.2177 |
| 25  | Ant Pedersen | Ford | 1:13.7275 | 2.4595 |