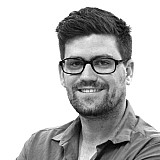 Windscreen wipers were effectively powerless against the driving rain that marred yesterday's Clipsal 500, according to race winner Nick Percat.
The LD Motorsport driver, who took an unexpected victory in the rain-shortened Sunday race in Adelaide, says the monsoon-like conditions made it nearly impossible to see – even with a functioning windscreen wiper.
"When the rain starts coming down, the wiper can't keep up with what's going on, it's just flooding water down the window," he explained.
"Sometimes you're nearly crashing into the wall on the inside because you turn so early, you don't know where it is. When it was raining, I was using the brake markers and points on the fences so I knew where the corner was – especially at Turn 8 because you're approaching so fast the wiper can't keep up, and you can't see where you're going.
"So I was counting it down on the boards.
"Mainly I found through the first sector, between Turns 6 and 7, it was an unknown. One minute you hit a white line and you're nearly backwards, and it was the same into Turn 8, because a few of the lines aren't actually black, they're still white.
"So you come in there, and suddenly the car is full sideways on the rev limiter before you've put your foot on the brake to turn in. It's pretty adventurous."
Holden Racing Team driver Garth Tander, who finished second, didn't even have the luxury of a working wiper for all bar one lap of the race.
"It was a tough race for us, we didn't have any windscreen wiper after Lap 2 so seeing where we were going was difficult at times," said Tander.
"When it was really really pouring down it was impossible, I couldn't see where I was going. When it dried out and there was murky conditions, I couldn't see where I was going either, because the screen was dirty."
Nissan's Michael Caruso, who took both third place and an unexpected points lead at Clipsal, said race stewards balanced the Safety Car and race stoppages well.
"It was pretty slippery out there," said Caruso. "The only thing I can compare it to is Sydney last year, but it seemed to be a lot worse. There was a lot of standing water, particularly in a straight line.
"[Race control] played it smart. Clearly when the lightning started striking you can't be racing and having people in pit-lane, it puts people in an unsafe position. So [stopping the race] was a smart thing to do.
"Particularly when us, as drivers on the track, are doing 50 or 60 kays in second gear and struggling keeping it on the road, it's a safe thing to do."