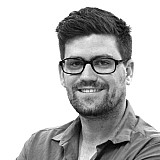 Taz Douglas is yet to officially sign with Nissan Motorsport for this year's V8 Supercars endurance races.
It was widely expected that Nissan would run with a mostly unchanged line-up for this year's endurance races, except for having to find a replacement for Alex Buncombe who will be tied up with Blancpain Endurance commitments on the Sandown 500 weekend.
However, the four-car squad may actually need two new drivers. Motorsport.com understands that Taz Douglas, who shared a Nissan Altima with James Moffat for the last three years, has not officially been locked in to the squad for the 2016 endurance races following Moffat's departure from the team.
"The fact of the matter is that there is no deal in place at the moment," Douglas told Motorsport.com.
"It's tough out there; there aren't heaps and heaps of options at this point. But the fact is that I'm not locked in to Nissan at this point, so I need to be on the look-out for anything else that comes up.
"I'm doing a lot of V8 miles this year, so it would be a shame to miss out on an enduro seat."
Douglas has already logged plenty of V8 seat time this season thanks to an ongoing deal with South Australian team THR that saw him race in the Dunlop Series at Clipsal and the Kumho Series at Sandown.
He will also run with a front-running team at the next Dunlop Series round at Phillip Island.
With Moffat having completed an off-season switch to Volvo, Douglas was expected to either team up with Todd Kelly or Dale Wood at Sandown, Bathurst, and on the Gold Coast this year.
Douglas's best result so far for Nissan was second at the Bathurst 1000 in 2014.