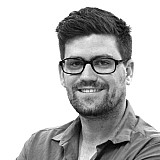 DJR Team Penske boss Ryan Story says there were no 'smoke and mirrors' when Marcos Ambrose stepped back as the team's lead driver 12 months ago.
Story, being interviewed by Neil Crompton on Fox Sports's Inside Supercars programme, opened up regarding the Ambrose saga that shocked the team last year.
The team's managing director said there was nothing mysterious about Ambrose's decision to step down as lead driver, but admits that it did hit hard with both the team and Roger Penske.
"[Roger] did [invest personally in Marcos]," Story told Crompton. "He'd gotten to know Marcos over the course of the 12 months or so prior, because when you're in the United States and you're thinking V8 Supercars, and you happen to have someone that goes to around 35 events a year with you, you're going to ask him what the go is.
"So they built a very strong rapport. It certainly hit us hard.
"One of things that Roger said to me when that all transpired [was that] he'd only seen it happen once before in his entire career – and that was with Rick Mears, after he'd won the Indianapolis 500. The following year he had Paul Tracy as his team-mate in the IndyCar team, and he basically hung his boots, and said this isn't for me, I'm not running at the level that I need to.
"Everything Marcos said in the media at the time and since is exactly as it played out. There is no smoke and mirrors there. Unfortunately it was a fairly brutal process and it played out the way it did."
Ambrose, who stayed on as a co-driver for the 2015 season, won't drive at all for DJR Team Penske this season, the team having already signed Luke Youlden to partner Fabian Coulthard, and Tony D'Alberto to partner Scott Pye.