Get alerts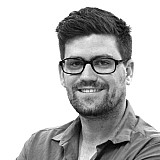 Simona de Silvestro says it is a 'different experience' driving a Supercar under lights at Sydney Motorsport Park, but that she'd be in favour of night racing should the category choose to introduce it.
The Nissan driver and DJR Team Penske's Fabian Coulthard were chosen to take part in a lighting test at Sydney Motorsport Park this evening, with plans to stage a full compact-format night race at the circuit next season.
The first part of the test saw temporary lighting placed at Turn 2. It is to be shifted around the circuit as the three-hour test continues tonight.
As well as relying on driver feedback, the test is being filmed to determine if the lighting is sufficient for TV coverage.
According to de Silvestro, familiar with racing under lights from her IndyCar days, it was a 'different experience'.
"That was a very different experience leaving pitlane in the darkness and heading into Turn 2 under the lights," she said.
"It could be fun if the category decides to pursue night racing.
"It was pretty weird having one portion of the track lit up and the rest in darkness. I couldn't really see much. The lights we have on the car don't really shine that bright, so it was quite tricky. But of course you're still trying to push a little bit even in the dark, so that was a good challenge.
"It doesn't change too much for a driver between driving in the daytime to driving under lights. The biggest thing when I raced in IndyCar was more when we did twilight races. The transition between dusk to night can be tricky, but on ovals, once the lights are on, it quickly feels normal. The lighting overall was pretty good.
"The biggest issue were the brake markers, you could only see them really late. But that is a pretty easy fix. Other than that, it was really enjoyable."
Nissan Motorsport team manager Scott Sinclair added that he's in favour of Supercars adopting a short-format approach, similar to the Big Bash cricket sensation.
"It was very exciting to be invited by the category to participate in the night trial," he said.
"We learned a few things about running at night at it was certainly pretty spectacular to look at. We've all witnessed the popularity of Big Bash cricket, so it's great that Supercars are exploring options and willing to try new things.
"We didn't make any changes to the car and ran the standard headlights, so there are a few things we'd want to change if we did this properly in the future. But it's not a bad way to start the weekend, watching some glowing brake discs and flames spitting out the side."