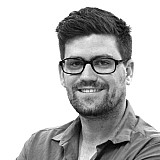 Will Davison says his victory in Tasmania yesterday will go a long way towards restoring the confidence he lost during his stint with midfield squad Erebus.
After a largely unsuccessful two-year stint with Erebus, Davison replaced Shane van Gisbergen at the one-car Tekno team for the 2016 season. And the switch has yielded almost immediate results, Davison taking victory away from yesterday's 200-kilometre race at Symmons Plains.
Afterwards, he admitted that the win was a crucial one as he looks to rebuild his confidence, and reacclimatise to running at the front of the V8 Supercars field.
"It's a great sport, and we've all been through the highs and the lows. I've been through some great highs, and some unusual lows," he told Fox Sports at the end of the race.
"It's a crazy journey. You can never quite give the emotion as to what it actually means to us, and how much doing this sort of thing does for your confidence.
"I'm stepping into some big shoes at Tekno knowing that I can do it, but it's been a couple of years… and to be able to bounce back to this form pretty early in the year is a big weight off the shoulders to be honest.
"It's all good and well saying you don't lose confidence, but sometimes you do. I left weekends in the last two years where I'm certain that I did qualifying laps as good as I've ever done, and races, and you keep telling yourself that – but you're not up there winning.
"You can keep [saying it] time after time, but until you're actually back doing it again, that's when it does the world of good for you."
Crucial weekend
While Davison's win did come from somewhat fortunate circumstances – he had been running third with four laps to go when leaders van Gisbergen and Mark Winterbottom slipped on oil and ran wide – the Tekno Holden was consistently at the front all weekend.
According to Davison, it was an important step as he continues to learn how to get the best out of the Triple Eight-built Commodore.
"It was an important weekend. I said it all along, no excuses, we have to be Top 5 this weekend," he added.
"I didn't really expect to come and win, but I needed a solid weekend. To be honest I was so uncomfortable in the car at Clipsal, but I was still ninth and 10th. I was like jeez, when I get a bit comfy in this thing it's going to be quick, because I knew I wasn't getting the most out of it.
"The Grand Prix was tough, I made a mistake in practice and put us on the back foot. We were able to try a lot of things there, and it started to make a bit of sense to me by the end of the races there.
"I really hoped that we'd hit the ground running here, and sure enough we have."
Consistency the next step
Now, Davison says the trick is to be a Top 5 car on a consistent basis. Until then, even being the points leader doesn't mean much.
"We've just got to keep ticking along. It's really about just going for races, going for podiums, and consistency," he said.
"I'm not going to make any big statements. We need to be consistent Top 5 runners. But I'll sleep well with that pole lap that I did [Sunday] morning. It was just so much fun, to have that sort of car underneath you.
"I still need to keep learning what this car needs for circuits coming up. But I'm loving it, and there's no reason we can't keep this form up."