Will Davison: consistency or wins the key?
V8 Supercar Championship leader Will Davison expects the unpredictable nature of the current Championship to continue all season, not knowing if wins or consistency - or both - are the key.
Davison started the Chill Perth 360 in Western Australia today in the best possible fashion by topping practice but said there were no guarantees in the most open Championship in history.
The domination of his Pepsi Max Crew FPR team and Red Bull Racing Australia of last year were long gone in a season where multiple race winners are the norm. Davison was quickest today ahead of RBAs Jamie Whincup and Lockwood Racing's Fabian Coulthard.
"It was a pretty unique year last year. It was the level of the two teams. I don't think that should be overlooked. There's a massive team element, confidence and momentum of the car. It was just a magnificent effort from both teams to step up a level," Davison said.
"It was a crazy year but I don't think we will see that again."
Davison was pressed on his 'consistency' this year as opposed to race victories and indicated a mix of both may well be the key to winning in 2013.
"I have proved over time I can string a few wins together. Last year I won eight races and was on the podium eight times and finished fourth in the Championship," he said.
"In the old days (Russell) Ingall and (Rick) Kelly won Championships with very few race wins. There's a lot more players in the game so you have to finish those races that aren't going to plan when you are sixth rather than get the red mist and crack it.
"It's also a fine line. We are racing for wins. We are representing Ford as a factory team and there are very few of us out there so you can't just dawdle around in fourth and fifth. We are going out every race to win and to do that you have to race damn hard.
"I've already won a race this season and had four podiums. I can keep this up and only get stronger."
Davison nailed a 56.2211sec at the 2.42km Barbagallo Raceway. Another practice session will follow tomorrow morning, prior to qualifying and the 60/60 Super Sprint race.
The format, which was last seen in Tasmania, runs with two halves and a rolling double file restart to kick of the second half. Two 100m kilometre races will be held on Sunday.
In the Dunlop Series Casey Stoner finished the day 13th in first practice and 15th after a testing day.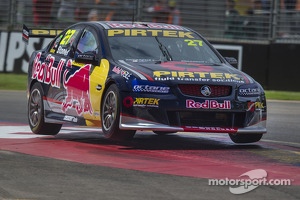 Casey Stoner
"It wasn't the best day for us. The first session wasn't too bad for us, learning the track and getting used to the car again. The next session we expected to improve but unfortunately went the wrong way with the set-up," Stoner said.
"We struggled a little bit and then put ourselves on the backfoot by running off at the end of the session. And after that, we back out with a better set-up to try but unfortunately we only got half a lap done before the session ended with a red flag.
"That really put a damper on our day and made things difficult for us. Tomorrow we're going to have to try a lot of things in qualifying, try and get our pace up a little bit so we can qualify a bit better and see what we can do for the race.
"We're not overly optimistic for tomorrow. I think we've got almost too much work ahead of us. A session which we should have spent fine-tuning ourselves on the track we spent trying to get back to where we were in the first session."
V8 Supercars