Get alerts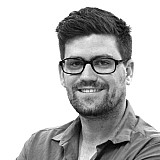 Speaking to Motorsport.com, Will Davison says he doesn't apologise for taking a passionate approach to his racing.
Davison found himself having a heated discussion with Holden Racing Team's James Courtney following race one at Symmons Plains, after the pair had a coming together on the first lap of the race.
Davison, having snared a rare top four qualifying position for the developing Erebus squad, was turned around at the hairpin as the field bunched up, the final contact that sent him into the spin coming from Courtney.
After the race he demanded answers from Courtney, something he told Motorsport.com he felt more than entitled to do.
"People wonder why there is emotion, and why we care, but all sports are like that," said Davison.
"Sometimes people might not realise how much goes into it, and how much it means for us all. Particularly for us who worked so hard to get into that position, to have it ruined on the first lap by a clumsy piece of driving, I had every right to represent my team and go down there looking for an explanation.
"It shows how much it means to us, and I don't regret it at all.
"I just wanted to ask him what happened, because naturally I was the only loser out of the situation. I felt well and truly within my rights to try and find out what happened, and I stick by what happened. I've got my view on it, and I've got a good memory.
I felt well and truly within my rights to try and find out what happened, and I stick by what happened. I've got my view on it, and I've got a good memory.

Will Davison
"There's not mush else to say about it. It was a minor first-lap jab, but it was pretty cheeky and it had big ramifications for me. I don't really appreciate the way it was responded to on his behalf. Clearly he wasn't sorry, and that's… all good."
Tide turning for Erebus
Davison feels that the solid qualifying performance – two fourths and a ninth across the three races – is a sign that the Erebus team is finally heading in the right direction with it's Mercedes V8 Supercar programme, even if the race results didn't ultimately go his way.
"As a whole, I leave the weekend massively optimistic," he added.
"Cautiously optimistic, though, knowing that we were competitive at that circuit last year, but I can see that we were a step even further ahead of where we were last year, through some of the other gains that we've made.
"We've come a long way in the last 12 months and we understand our chassis better than this time last year. I'm confident we can transfer that across to more circuits this year. Whether we can do it at all of them I'm not so confident, but I also think that now our not so good events will be better than they were in the past."
Power still an issue
Despite Symmons Plains being a circuit that rewards outright horsepower, Davison says the engine is still a trouble area for the Mercedes – albeit not to the extent that it was last year.
"It's been a significant weakness of ours. To be honest last year we weren't good [at Symmons] because of horsepower, I was getting towelled on the straights.
"This year we've kept a pretty strong chassis balance, and we've certainly halved the gap with our engine package. Which is why we were in the top three cars for pace on the weekend. Nobody was going to touch [Craig] Lowndes, but we had the measure of everyone else.
"We're still a self-sufficient, independent team. We're not a customer operation, where we just buy the best bits of other people like a lot of other teams out there. So that makes it hard. If we put everything into the engine shop, then it takes away from the chassis side of things. These things just take time.
"It's cool, it can be frustrating but I was prepared for that, and the small milestones are incredibly rewarding. Hopefully not too long we'll be constantly challenging at the front."
"You can really sense that once you start building belief with everyone, and everyone starts getting a taste for it, there comes this motivation to work that little bit harder. These things build off each other, and hopefully we can start making all that work for us.
"A weekend like that is important for us to do that."