Get alerts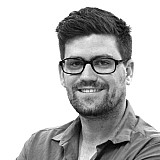 Will Davison says he's not dreading this year's trip to an unhappy hunting ground, he's excited about it.
Davison finished last year's Darwin event with a 16th, a 13th, and a DNF.
He's expecting this year's trip to the Top End to be just as difficult, particularly with a grippy new surface to deal with. However, on the back of some good form and an impressive win in Western Australia last month, Davison says its a challenge he's looking forward to.
"That circuit was probably our worst event last year, and this year we have a new surface to deal with," Davison told Motorsport.com.
"Anywhere with a new surface has troubled us in the last year. But we look at the set-up we had for Darwin last year and pretty much laugh at each other.
"We've learnt so much in the last 12 months, and we look at what we were doing and say 'no wonder it didn't work last year'."
Darwin a "great challenge"
Davison doesn't expect the progress the team has made in the last 12 months to magically solve all of Erebus' Top End troubles, but says the difference is that the team is better prepared to tackle its weak points head on.
"It's going to be a real test for us to go to a track that has been one of our worst, but I'm looking forward to it," he said.
"I'm not dreading it; if I was in the title hunt and we were going to a bogey track maybe I would be, but for us, in this phase we're in where we're getting better and better, I see it as a great challenge.
"I actually can't wait to get there and be put to the test at a place that troubled us last year. It will show just how much we've worked and improved from last year.
"If we're strong there, it will be very rewarding."
Pace the best strategy
While Davison has shown much improved form recently, particularly in qualifying, he says the key to getting something out of the Darwin weekend will be keeping things both quick and clean.
"The pace at the last three events has been really good," he said.
"That's priority one. We've been in the Top 10 the last nine qualifying sessions straight.
"We've always needed to have some consistent pace, and we need to keep that going in Darwin. Pace is the best strategy you can have. And then we just need to tidy up a few of the human elements.
"At Darwin we need to back that pace up, and then make no errors."