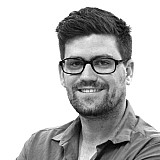 Will Davison denied Craig Lowndes his 100th V8 Supercars win by taking a shock victory for Erebus at Barbagallo Raceway.
Davison barely looked in the game in the early part of the race, with the Prodrive Racing Australia pair of Mark Winterbottom and Chaz Mostert seemingly running away with things after starting on the soft tyre.
But when Davison's team-mate Ash Walsh spun into the sand at turn six on Lap 48, causing a safety car, everything changed.
Suddenly, the hard-hard-softs strategy came alive, and both Lowndes and Davison was able to get a free second stop, fuel to the finish, take on fresh softs, and slot into the lead pack behind the PRA cars for the re-start.
Following the Lap 53 restart, Lowndes and Davison carefully picked off Mostert and Winterbottom – who were handicapped by having already put laps on their softs in the first stint – and set about scrapping over the lead. The decisive move came five laps from the end, Davison easing past Lowndes on the exit of turn six to take a lead he would hold until the finish.
"I don't know what to say," said Davison.
"A podium would have been incredible. A top five, I was going to be thrilled with. I can't tell you…
"I always said it would taste sweeter than ever doing it with this team."
Lowndes finished second, narrowly missing out on a historic 100th win, while Fabian Coulthard – also on a hard-hard-softs strategy – came a remarkable third. The Kiwi started on the last row of the grid after causing a controversial red flag in qualifying, but caught the right end of Brad Jones Racing's decision to split strategies across its three cars.
Mostert wound up best of the dominant PRA cars in fourth, while Winterbottom fell right off the cliff with his over-worked soft tyres and wound up just 15th.
James Courtney also got the best of the safety car, using fresh softs to steal fifth place from team-mate Garth Tander, while James Moffat came from nowhere to grab seventh for Nissan.
While Lowndes did well out of the strategy, team-mate Jamie Whincup was left a lap down when the safety car came out. He could manage just 19th in the end, one place behind the best-placed Volvo, Scott McLaughlin.