Get alerts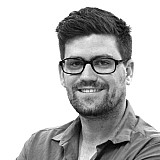 Scott McLaughlin took DJR Team Penske's second win of the weekend with a measured performance at Hidden Valley.
A slightly shorter second stop proved key for McLaughlin, the Kiwi jumping early leader Jamie Whincup and streaking his way to an impressive victory, while Shane van Gisbergen trumped Fabian Coulthard to round out the podium.
It was Whincup that got the jump at the start, comfortably clearing polesitter McLaughlin on the run to the first corner. Both McLaughlin and Coulthard stuck to the back of Whincup's car for the first lap, before the Triple Eight driver started to ease away.
The trio ran in that order until Lap 5 when Coulthard dived into the pits, replicating the early stop strategy he used to success on Saturday and popping out in very clear air.
While Coulthard got down to setting purple sectors at the back end of the Top 20, Whincup continued to ease the gap out over McLaughlin. By Lap 10 the lead was almost a second and a half, although McLaughlin managed to bring it back to within a second when Whincup made his first stop of Lap 16.
McLaughlin stayed out and extra lap, making his first trip down the lane on Lap 17. Having taken on a little more fuel he came out behind David Reynolds in what was effectively fourth, while Whincup came out a few seconds behind new effective leader Coulthard.
On Lap 20 the top three running order was restored when McLaughlin eased past Reynolds into Turn 1, while there was a change of lead two laps later when Coulthard made it easy enough for Whincup to slide by at Turn 6.
Coulthard was equally passive on Lap 25, letting McLaughlin through to chase down Whincup as the #12 Penske Ford started to struggle on its 20-lap old tyres.
On Lap 33 Coulthard took the first available opportunity to make his second stop and take on fresh rubber. He was followed in by Shane van Gisbergen, who had taken on a lot of fuel at his first stop, and then forced to follow the Triple Eight Holden out in what was effectively fourth.
From there it was effectively a two-horse race. McLaughlin was next to blink, pitting from second on Lap 35. Triple Eight then opted to keep Whincup out to give him fresher rubber, the #88 Red Bull Holden finally taking its second service on Lap 41. Having lost a bit of time as the second set of tyres went off, and needing a little more fuel, Whincup emerged just under three seconds behind the new leader.
Once in front, there was no stopping McLaughlin. He slowly stretched the gap across the final stint to over five seconds, before Whincup pulled it back inside the last handful of laps. But the damage was done, McLaughlin coming home with a 2.2s advantage.
"I'm stoked. I just had really good pace, and we were able to be good with strategy," said the race winner.
"It was pretty warm out there, but I enjoyed it. We had a good battle with Jamie, and I wanted to maximise that – and we did."
The battle for third came alive in the final stint. As the stops shook out it was van Gisbergen leading Coulthard, with a battle pack including the likes of Tim Slade, Craig Lowndes, Reynolds, and James Moffat in hot pursuit.
Moffat's chances were killed off with a tyre failure on Lap 58, but the rest just didn't let up. It wasn't until Coulthard really started to struggle for rear grip inside the last 10 laps that van Gisbergen was able to bolt and secure third spot.
Coulthard, though, was forced to fight Slade and Lowndes the whole way home – just getting home in front of the BJR and Triple Eight Holdens.
Reynolds finished up in seventh after fighting some overheating issues across the final stint, while Scott Pye closed up on that battle pack in the final 10 las on his way to eighth spot.
McLaughlin is now just 10 points behind Coulthard in the standings, while Whincup is just another six adrift in third.