Subscribe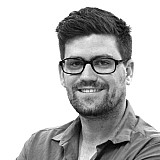 Triple Eight Race Engineering boss Roland Dane is staying tight-lipped on his team's sponsorship options for 2016.
The V8 Supercars giant will expand to at least three cars for the 2016 season, with Shane van Gisbergen joining Jamie Whincup and Craig Lowndes at the Brisbane-based team.
That means extra sponsorship will need to be secured, with a likely outcome being that Whincup and van Gisbergen will drive Red Bull cars, and Lowndes will run a third car with a different title sponsor.
However, Dane is currently keeping his cards close to his chest when it comes to his team's sponsorship situation for the new season.
"In the fullness of time we will reveal if the cars are the same or different," he told the official V8 Supercars website.
"There are elements [of the 2016 funding] that are good, and elements that are still a work in progress. We don't have every element locked away but that is normal for this time of year.
"There is always a turnover, there is always contracts that are coming up for renewal, whether they are small ones or big ones.
"So as far as going to three cars, clearly we need more money and we are working on it right now."