Get alerts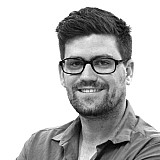 Testing of the brand new ZB Commodore Supercar has been temporarily halted after the car sustained damage during straightline aerodynamic testing.
Triple Eight, who has developed and built the new Commodore, was set to use the first of its three Accredited Manufacturer test days this Thursday with a hit-out at Queensland Raceway.
However the test has now been shifted to after the Gold Coast 600, due to damage sustained during aero testing at Stanthorpe Airport over the last two days.
The damage came from the air strip surface, which broke up in the heat and peppered the bodywork on the ZB Commodore with stone chips.
Super2 driver and T8 mechanic Kurt Kostecki was behind the wheel.
"The track temp at the airfield was quite hot and that meant that the sticky race tyres that we run on were ripping up some of the gravel on the tarmac of the runway and basically stone-blasted a lot of the panels on the car," explained Triple Eight engineer and ZB Supercar head designer David Cauchi.
"All the damage is cosmetic, nothing that we can't repair, but with the tight turnaround it was already going to be a really big push to do this test and prepare properly for Bathurst. With the extra workload of repairing the panels we've decided to postpone it until late October."
Despite the setback in the testing programme, spirits are high in the T8 camp after the early running of the new-for-2018 Commodore.
"The car is in a very good window of where we thought it would be, which is positive, and the changes we were making were matching the downforce numbers that we were predicting, so we feel like we have a good base car and a good bunch of tools to be able to tune the aero balance come the official Supercars aero test," added Cauchi.
"There are a lot of people who've worked very hard behind the scenes, as well as going racing, so it was extremely rewarding to see the car on track. It's come together really nicely, so it's very satisfying, but the job's not done yet – what really matters is how the car performs on track, which we'll see in the coming months."