Subscribe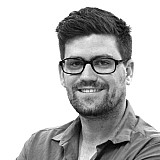 Nissan Motorsport has officially launched new signing Dale Wood's car ahead of the 2016 season.
The Altima carries a similar look to that which Wood ran at Brad Jones Racing last season, with his major backers GB Galvanising and ADVAM signing on for another year.
Wood had his first run in a Nissan when he shook down Rick Kelly's new car earlier in the week, and will drive his own car for the first time during testing at Winton early next week.
"The team has been great and after doing some laps in Rick's car, I just can't wait to jump into mine," said Wood.
"I think the car looks brilliant, I love the way the colours are so bright and how it will stand out on-track. I've been lucky enough to have some consistency with partners and the brands on my car, and I love seeing it evolve every year. I think this livery is the best one we've had yet.
"In this sport, if you can have consistency in the brands that support you, I believe that it's a sign that there's something special there. I've had a long relationship with the primary partners on my car, and that's something I'm proud of more than anything."