Get alerts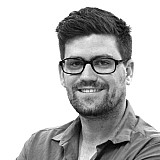 Dale Wood has secured a spot on the Supercars grid for the next two seasons, with a deal to race an Erebus Commodore.
Wood moved joined Nissan Motorsport from Brad Jones Racing ahead of the 2016 season, but has been shuffled out for 2017 thanks to the factory Nissan squad's successful bid for Simona de Silvestro's services.
He has secured his future in the category, though, with a two-year deal to join Erebus Motorsport. That means a return to Holden hardware for Wood, who will line up alongside the team's current lead driver Dave Reynolds.
"I am really excited to be joining Erebus Motorsport and being part of a smaller, tightknit team," Wood said.
"I'm particularly excited about being partnered with Dave; we are both like-minded characters with a similar sense of humour, so I think the garage will be very upbeat.
"Dave will also be a huge challenge and I've got a lot to learn; there's been so many instances this year I've watched some of the laps he's done and he's done a standout job."
Erebus General Manager Barry Ryan added that he is expecting Wood to push both Reynolds and the team forwards.
"I've known Dale since his days in Formula Ford, and he has always been a competitive driver in every category he has raced," Ryan said.
"Winning the Development Series title in 2013 was just an example and since then he has been in teams in a third or fourth car, which has its own issues.
"Having an experienced driver like Dale work with and push Dave is exactly what we need to move forward as a team.
"Dale will surprise many in 2017 and will bring a great personality to the team, much like Dave, and this is just as important as their ability to drive."