Get alerts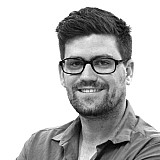 James Courtney is wary about a lack of track time for Supercars on Formula 1 race weekends, amid talks that the Aussie series could play a supporting role at more grands prix in the future.
Having competed for championship points at a modern Australian Grand Prix for the first time this year, Supercars is looking to grow its relationship with F1 chiefs and perhaps even bag more support card slots in the Asian region.
The Singapore Grand Prix is understood to be the primary target for Supercars.
While a link with F1 could provide Supercars with the most solid foundation for international expansion yet, particularly in comparison to the ill-fated attempt at a shift into the Malaysian market in 2015, Walkinshaw Andretti United driver James Courtney isn't convinced.
In a social media video post for team sponsor Sketchers, the 2010 Supercars champ opened up on his primary concern with racing for points on an F1 grand prix weekend – track time.
"For me, my one big issue with it all is that we get next to no track time," said Courtney.
"That kills us for trying to develop the car. We're there to go on track and have fun, so when we're not doing much track action because of the F1 boys, that's a massive downer for me.
"There's ups and downs. For me, I like the idea of going there – but we need more track time."
This weekend's SuperSprint round at Symmons Plains will actually feature 80 less racing kilometres than the Albert Park round, however there will be an additional 50 minutes of practice in Tasmania, as well as 20 minutes more track time dedicated to qualifying.
Based on an average lap speed of 170 km/h, the extra 70 minutes of non-racing track time results in just shy of 200 kilometres theoretical distance advantage compared to the AGP.
Focus on AGP form turnaround
Courtney will be looking to get his 2018 season back on track in Tasmania this weekend, having backed up his impressive Adelaide 500 form with a shocker at Albert Park.
Having emerged from the season opener sitting third in the points, a 12th, a 20th, a fifth, and a DNF at the AGP dropped him down to seventh in the standings, 111 points behind leader Shane van Gisbergen.
He's also looking for redemption at Symmons Plains after a tough 2017 visit, where he missed Sunday's race after being caught out in the infamous Saturday shunt that wiped out 11 cars all at once.
"I'm looking forward to getting to Launceston this year. Last year was disappointing missing out on Sunday after the accident, so I can't wait to get back and race there," said Courtney.
"We didn't have the best luck at the [Australian] Grand Prix, but the balance and the raw speed of the car was good, which is encouraging.
"The new qualifying format will mix things up, it's going to make the final runs in practice a bit more interesting!"