Get alerts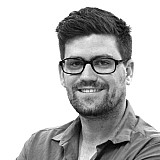 Having recently celebrated 300 V8 Supercars starts, James Courtney says the category is the best touring car series in the world.
The second race of the weekend at Winton was the Holden Racing Team driver's 300th start in a V8 Supercar, a journey that started when he returned from overseas in 2006.
The New South Welshman had spent a number of years in Europe chasing the Formula 1 dream, winning a test role with Jaguar thanks to his Formula 3 exploits. But a high-speed crash while testing the Jaguar F1 car at Monza stalled his European career, with Courtney heading to Japan briefly before settling on a full-time V8 Supercars drive with Stone Brothers Racing.
Now, 301 races on from his return to Australia, Courtney says he has come to realise V8s is the best tin-top category in the world, and that he should have returned earlier.
"I kick myself now wondering why I wasted my time with that bulls**t and didn't come back here a bit earlier," he said.
"I'm having so much fun back here. It's a great championship, the strength of this championship is shown with the international guys wanting to come an join.
"I think it's definitely the strongest touring car championship in the world, it shows with our racing how strong and tight the grids are.
"They're very unique cars, they're very challenging. It's a massive challenge, and I've loved my time back here.
"Growing up, focussed so hard on one dream, you lose touch with what proper racing is. I didn't really get that feeling back until I came back here.
"It's been a great journey. I've upset some people along the way, made some others happy, but all in all I'm pretty happy. I wouldn't change anything I've done."
Courtney is the only driver to have beaten Jamie Whincup to a V8 Supercars crown in the last seven years, winning the 2010 title while driving for Dick Johnson Racing.