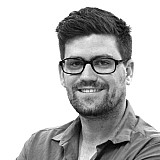 James Courtney admits he is unlikely to be fit enough to race at this year's Sandown 500, after being injured in a freak incident involving a helicopter at Sydney Motorsport Park.
Strong winds from a Navy helicopter hovering over pit-lane caused the Holden Racing Team pit boom to collapse before Saturday's first qualifying session at SMP, with an advertising board hitting Courtney in the ribs, causing significant – although not life-threatening – injuries to his ribs and lungs.
Courtney spent the weekend in hospital, with co-driver Jack Perkins taking over the #22 Commodore.
"As I walked into pit-lane the helicopter was there. With all the dust and stuff I put my arm up and I just got hit by something under my arm, under my ribs," Courtney explained.
"It sort of knocked me in to the little alley way between the two garages. I was on the ground, I couldn't breathe, so I couldn't talk or yell to get anyone's attention.
"I was just laying there hoping someone would see me. Thankfully the guys saw me, and came over and I started to be able to breath again.
"There are two or three broken ribs where it got hit, and where it broke it then fractured in and punctured the lining of my lungs.
"There's fluid or air leaking, so it tries to deflate my lungs. That's why it's hard breathing. It's just time for the lung to repair, and the rib, so it's going to be a while I think."
Sandown unlikely
With the Sandown 500 less than three weeks away, it seems incredibly unlikely that Courtney will be fit enough for the first of three endurance races – something he himself admits.
"I'd be back today if I was allowed. But they said for the foreseeable future, so not today, and probably not Sandown," he said. [I'm] just trying to do everything I can to get ready as soon as I can."
HRT already working on replacement
As early as Sunday morning HRT manager Adrian Burgess said he was working on a short-list of drivers who might be able to replace Courtney, with the likes of Ryan Briscoe and Russell Ingall rumoured to be among the favourites.
"It's not the situation we wanted to find ourselves in," Burgess told Fox's race coverage on Sunday morning.
"I've had a few discussions with Ryan [Walkinshaw] and Simon [McNamara], I've got myself a bit of a short-list already mentally who I want to talk to.
"I need to get myself through this weekend, and so does the team, and give James every opportunity we can to speed up his recovery and see if we can get him in a position. But if we find that isn't the case, we'll clearly do the best thing for the team for Sandown and onwards."
Motorsport.com understands that any replacement driver must be available for all three endurance races, not just Sandown, in case Courtney doesn't recover in time for Bathurst and/or the Gold Coast races.