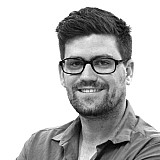 An unapologetic James Courtney says he's not in V8 Supercars to make friends, and that he hopes to take Triple Eight down in 2015.
Heading into the first V8 Supercars round in five weeks, the Skycity Triple Crown in Darwin, the Holden Racing Team driver says he has no plans to temper his aggressive style.
"I'm not here to make friends, in the end I'm here to win and deliver and I'm not worried about who I upset along the way," he said.
"I want to win, I do what ever it takes to win and sometimes you have to be a little bit more aggressive, but it has to be calculated.
"Sometimes you make mistakes like I did at Winton when I took Garth [Tander] out and that obviously wasn't the right thing to do. But it hasn't affected the way I do things. I'll still attack my racing as aggressively as what I normally do."
HRT can win "if no one mucks up"
Courtney says the factory Holden team's best chance of victory in Darwin this weekend is if they can have a mistake-free weekend.
"To come away with a result at Darwin, we're going to have to have good power, good fuel economy and good tyre life and also good car speed, so it's a lot of things," he said.
"I'm pretty excited going to Darwin, I think we could easily come away with a win so long as we all do our job properly and no one mucks up.
"I just really want to get this championship. Triple Eight have had way too long a run at wrapping up the championship so it's time we take them down."