Subscribe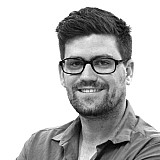 James Courtney has hailed improvements made by the Holden Racing Team over the off-season, saying that he wouldn't have been able to hold of Jamie Whincup 12 months ago.
Courtney says the 2016-spec HRT Commodores are a decent step forward based on last year's car, which comes down to some bold set-up risks that the team was able to take in the latter part of the 2015 season after Courtney's injury left him well and truly out of title contention.
Today's Race 2 winner even reckons he wouldn't have been able to hold off Jamie Whincup at the conclusion of today's thrilling 125-kay encounter had he been in his '15-spec Commodore.
"We took some massive risks on my car [last year], and changed a lot of big componentry to try and get a direction – because we were suffering quite badly," he said.
"I think we've made a really good step forward, the car is a lot more consistent through the corner, whereas last year we had a massive balance shift as the car was loading. It's been a big step froward for us as a team.
"It's very consistent, and I can do what I do to try and help it. If I was in the position that I was in today in last year's car, I'm 99 per cent sure I wouldn't have stayed in front. The car is a lot more predictable, it's not changing its mind throughout the corner."
HRT 'happier as a team'
One major change that the HRT/Walkinshaw operation has made since the end of the '15 season is downsizing from four cars to two.
The change, says Courtney, has not only streamlined the workload, but made HRT happier as a team.
"It's a lot smoother in the team," he said.
"Debriefs are a lot more streamlined, and the information is a lot clearer. You don't have to worry about getting four people together; getting racing drivers together is like herding cats.
"It's a lot easier, and we seem to be a lot happier as a team. Manufacturing things, it makes the development twice and fast because we don't have to make four times the componentry. It's sped everything up."