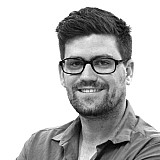 James Courtney says he first called for V8 Supercars drivers to have better leg protection in the cockpit after his Phillip Island crash in 2013.
Leg protection has been thrust into the limelight recently thanks to Chaz Mostert's frightening Bathurst smash, which left him with a broken left leg thanks to contact with with gear shifter.
Since then, DJR Team Penske has begun work on a NASCAR-style driver protection 'tray', a process that is being closely followed by V8 Supercars.
Courtney, however, says he called for up-rated leg protection inside a V8 Supercar after his own leg-shattering crash at Phillip Island back in 2013, when his right leg was broken due to side-on impact from Alex Premat's out-of-control GRM Commodore at Turn 4.
He says those calls, however, fell on deaf ears.
"When I did that [accident at Phillip Island], I said to them 'let's do something about our legs'. And they were like 'we've got other stuff to worry about' – and then it happened again with Chaz," explained Courtney on Fox Sport's Inside Supercars show.
"I had a massive bruise on that left leg where the shifter was, because my legs were jammed into that and obviously on the right side was leg was broken.
"I drove a NASCAR earlier that year and they had the two little channels where you sit your legs in, which were really good. You felt unbelievably safe, they even had them for shoulders and for your arms just to contain everything.
"The problem [in a V8] is that where the seat ends, when you get a massive side impact there is that much leverage and half your leg is supported and the rest just snaps.
"It is something that I flagged, but nothing was done about it. Now it's been raised again, so hopefully something gets done about it this time."