Get alerts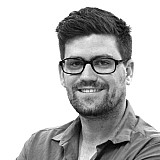 James Courtney has apologised for taking his team-mate Garth Tander out of today's second V8 Supercars race at Winton.
Courtney out-braked himself on the run down to the first corner, which caused him to fire into the side of Holden Racing Team team-mate Garth Tander's Commodore.
The impact left Tander on the sidelines, while a red-faced Courtney was hit with a drive-through penalty.
He then switched on to wet tyres, despite there not being a cloud in the sky, in a bid to save a set of slicks for tomorrow's 200-kilometre feature race.
Speaking after the race, Courtney admitted that the crash was 100 percent his fault, and that he was sorry for taking Tander out.
"It was my fault. I got in the junk, and took my team-mate out," he said.
"Massive apologies to not only Garth, but all the boys. They work their arses off. It was a silly little mistake, but it costs us heavily.
"I'll see GT, an apology is not going to mean much to him at the moment, but when I balls up I'll admit it."
Tander, meanwhile, was reasonably calm after watching the race from the sidelines, suggesting he and the team needed to move on fast.
"Yeah, not ideal. It's not a great day for the team, but there's nothing we can do about it now," he said.
"We'll go and have a chat tonight. The most important thing is to make the cars go faster. There's a lot of work to do overnight, and hopefully we'll come out stronger tomorrow.
"We had something in our car that was quite a bit different to what we had in race one, and never got the chance to try it. It felt good on the warm-up lap, but that's that."