Get alerts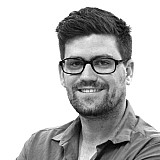 Fabian Coulthard will run a Sharp livery at this weekend Supercars season finale on the streets of Homebush.
In what is the last race of DJR Team Penske's rolling sponsorship programme, Coulthard's #12 Ford will run with major backing from consumer electronics company Sharp.
It is the first time the team has run a full Sharp livery, and will be the last time of the revolving sponsors ahead of Shell V-Power taking over as the two-car team's full-time major backer in 2017.
"Sharp has been a great partner in 2016 and we are delighted to run a full livery on Fabian Coulthard's car at the Sydney 500," said DJR Team Penske's managing director Ryan Story.
"The team has benefited by state of the art office equipment which has helped planning and productivity. We work with Sharp on a number of levels and look forward to continuing the partnership into 2017."