Get alerts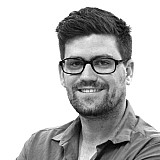 Fabian Coulthard says the V8 Supercars officials didn't even give him a chance to pluck reverse gear before waving the red flag after he went off in qualifying.
The Brad Jones Racing driver ran off at turn six during qualifying, but managed to carry enough momentum to get through the soft sand. He then nosed lightly into the tyre bank, before reversing out and carrying on.
However, the officials decided to red flag the session as soon as Coulthard nudged the wall, meaning Coulthard was ruled out of the remainder of qualifying despite being able to get moving again unaided.
"I didn't even get a chance to get it into reverse," he later explained.
"I was on to the compacted stuff on the outside of turn six, so it was only a matter of time before I reversed and drove out. Before I got reverse I could see out of the corner of my eye there was a red flag waving, so I thought I'm pretty much done by now.
"Obviously it was a record time to get the red flag out. It was a little bit disappointing not to be even given a chance."
Coulthard remarkably went on to finish the race third, his hard-hard-soft tyre strategy helping him cut through the field.
"To start the day 24th, and come through the field to finish third, it's been a pretty cool day," Coulthard added.
"I'm pretty happy with the performance of the car, and guys did an awesome job with the strategy.
"No one gave up, that was the big message I got out of it. They said 'don't stress about it, what's happened happened, take it in your stride'. That's what I did. They backed me 100 percent."