Get alerts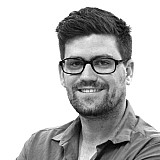 Fabian Coulthard says there is more to come from DJR Team Penske following the team's promising start to the 2016 season.
The Queensland-based squad went through a major upheaval over the off-season, expanding to two cars and bringing Coulthard in as a new lead driver.
The changes have seemed to bear fruit immediately, Coulthard and team-mate Scott Pye taking a pole each at Clipsal a fortnight ago, before the Kiwi put in an excellent performance to split Triple Eight drivers Shane van Gisbergen and Craig Lowndes in Sunday's final V8s race at Albert Park.
And according to Coulthard, there is plenty more to come from the Australian-American team.
"I'm happy with our progress," he said at the Australian Grand Prix.
"The car is very different to drive, and I'm still thinking about how to drive it. But it's all progressing in the right direction, and it's nice to know that we're finishing third and there is still more to come.
"For Scott and I both to get a pole in Adelaide, and we did well in qualifying [at Albert Park], it's pretty tricky to qualify at the front, so it's good to know that we've got good car speed.
"And it's also nice to know that Roger [Penske] is on the other side of the world watching; he sent both Scott and I a message yesterday. He's got a very vested interest in how the programme is running down here, and it's only going from strength to strength."
Comfort levels increasing
Having switched from a Brad Jones Racing Commodore to a Penske Falcon, Coulthard said his primary focus at the moment is getting more comfortable in the car.
"I'm getting more familiar with it, but it's just… it's a different driving style, and I'm still thinking about how I'm going about it, and how I need to do a few things," he added.
"Once that becomes second nature, you can focus on the driving and what the car is actually doing, and get better feedback to the team.
"It's going to take a little while, but I'm happy with how it's progressed. I'm more and more comfortable."