Subscribe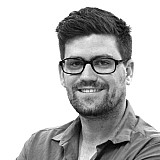 Fabian Coulthard says he threw everything he could at Mark Winterbottom in the closing stages of today's V8 Supercars race at Winton, as the pair battled for the lead of the race.
The Brad Jones Racing driver was able to pressure the race leader for the majority of the long final stint on the softer Dunlop tyres, looking the quicker of the two in the second third of the stint.
But ultimately Coulthard couldn't find a way through, settling for second after Winterbottom's tyres came back to him in the closing laps.
After the race, he admitted that he gave it everything he could.
"I gave it my best shot to Frosty," he said.
"It was kind of a rubber band effect; I'd catch him, he'd pull away, I'd catch him again. I did what I could, but my best wasn't good enough."
Coulthard added that he was satisfied with another podium finish, despite missing out on the win.
"We should be pretty happy," he said.
"We started seventh, and got through to second, so that's not a bad day.
"I felt we had pace on both tyres, the hard and the soft. The car does definitely light up on the soft tyre, and you're able to drive the car the way you should be able to."