Get alerts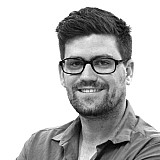 Matt Campbell says he backed away from the scrap between David Russell, Todd Hazelwood, and Jonathon Webb at Sandown last Saturday, as he could see the huge potential for it to end in a monster shunt.
Hazelwood and co-driver Tim Blanchard were wiped out of the Sandown 500 on the penultimate lap of Saturday's co-driver qualifying race, a huge crash destroying their Brad Jones Racing Commodore.
The shunt started with a three-way scrap up the back straight between Nissan driver Russell at the front of the train and Hazelwood and Webb behind. The latter two drivers were side-by-side heading to the Dandenong Road complex, before Webb locked up his front-right tyre and made contact with Hazelwood, pitching him into a frightening rollover.
Webb was ultimately handed $15,000 fine for his involvement in the crash.
Triple Eight driver Campbell had a perfect view of the crash, having been sat behind the battle pack after being spun earlier in the race.
The judicial footage supplied by Supercars shows that Campbell backed off before reaching Dandenong Road, seemingly purposely distancing himself from the trio ahead of him.
Speaking on Sunday evening, Campbell confirmed that he did indeed back off due to concerns that a crash was inevitable.
"You could see it coming, they were all too close," said the Porsche Supercup regular.
"I backed out early, because I could see they were all pretty close and I didn't want to be a part of it. I wasn't in a position to fight, I was just coming back through trying to be consistent.
"The Nissan was also trying to move over on Todd up the back straight trying to get him to back out of it, which he didn't – and he should have stayed there, it was his corner.
"Obviously the Nissan went through as well, but Webby's move was… a little bit optimistic. It wasn't on.
"That's a corner where when it goes wrong, it goes wrong in a big way. And that showed on Saturday.
"You've got to feel for Todd, with it being his first enduros and all of that."
Comfortable with performance against regulars
Campbell, returning from Europe to partner Shane van Gisbergen at the three long-distance Supercars races, was back in the thick of things during Sunday's main Sundown race.
This time, however, it was at the other end of the field; in order to help recover from a disappointing Saturday, Triple Eight elected to start van Gisbergen in the #97 Red Bull Holden, pitting him against a field of co-drivers for the first stint.
The flip side was that Campbell was always going to have to spend a stint up against regular Supercars stars.
Following van Gisbergen's charging drive from outside the Top 20 to catch up to the front-runners, Campbell was thrust into battle with the likes of race leader Cam Waters and championship leader Scott McLaughlin.
But the former Carrera Cup champ held his own, comfortably running with the leaders before handing back over to van Gisbergen.
Had it not been for a late tyre failure, the car may have finished on the podium.
"We knew that on Saturday night that was our strategy," added Campbell.
"Obviously on Saturday didn't go to plan for us. There wasn't much of a decision to be made, we knew what we had to do. It could have been a sacrifice with me against the main game drivers, but I feel that my speed was good enough.
"I didn't have any pressure behind me, so I was comfortable.
"Shane did all the hard work, and I just had to maintain and chip away at it. I was nice and comfortable in the car, and I was happy with my stint.
"It was a big shame at the end with the tyre failure, but we showed our speed in the end. We struggled a bit on Friday and Saturday, so on Sunday, the day that mattered, the car was good. It's positive going into Bathurst.
"I'm happy with what I did in the car, so just looking forward to Bathurst now. I'm looking forward to getting to The Mountain."