Supercars Camaro a 'no-brainer' says team owner
A Supercars-spec Camaro entering the Australian series is a "no-brainer" following news of the Mustang programme, according to Tickford Racing part-owner Rod Nash.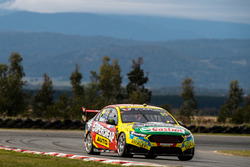 Nash's Tickford outfit will play a crucial role in the development and then deployment of the new-for-2019 Mustang Supercar, which comes as part of a renewed factory interest in the series from the Blue Oval.
The Mustang will be the first two-door model to enter the series under the Gen2 regulations, leading to questions as to whether GM might follow with the Camaro, or Nissan with its GT-R.
According to Nash, the Mustang move should inspire GM to look seriously at the Camaro – which is about to hit the Australian market – as an alternative to the four-door Holden Commodore, or even as a parallel programme under the Chevrolet banner.
"The Mustang body sets the agenda for the competition factor there," he said.
"That'll be up to Holden to make those statements officially, but I think it's a bit of a no-brainer that the Camaro is on its way now, just as a result of the Mustang body being put out there.
"As we know, there's quite a few Holden teams. That's what's great about Gen2, even within a brand, say Chev and Holden, you're likely to see two body shapes out there being the Commodore and the Camaro.
"I think that's great for where the [Supercars] landscape is. No question the Mustang is going to set the agenda now.
"Mustang has been a common conversation, as is Camaro amongst the teams. I think if you're a betting person, someone within the category will pick up the Camaro, I would have thought.
"It's a lot more exciting I think, a step forward, and would be great for our sustainability as a business and a sport, to help to add that next level of attractiveness to our fanbase and followers."
Supercars CEO Sean Seamer said the Mustang programme is proof that the series is open to new bodyshapes, and that there are no concerns about moving away from sedans and towards sports or muscle cars.
"I don't think it's a negative thing for us," he said.
"As we've said many times, the Gen2 guidelines allow us to run front-engined, rear-drive cars, provided they are produced in units of 5,000 and have four seats.
"I think that variety is a very good thing for the category. As Rod said, it leads to sustainability and helps us broaden our fan base."
Supercars Camaro a 'no-brainer' says team owner