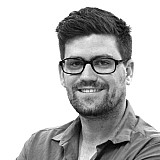 Jason Bright says its his qualifying form that has to improve if he's to match his team-mate Fabian Coulthard at the front of the V8 Supercars field.
Speaking to Motorsport.com, the Brad Jones Racing driver admits qualifying has been a weakness of his this year, and midfield grid positions are stopping him from running at the front of the field like team-mate Coulthard.
"I feel like we're not really hitting our potential at the moment," he said.
"We've got good race pace, we've just got no qualifying speed at the moment. With the current format, one long race and two sprint races with no pitstops, that's punishing us.
"We need to get some more speed out of the car in qualifying, because the races where we have qualified better, we can run up there. I tend to spend most of my races stuck under the boot of another car."
Bright only has two single digit qualifying results to his name from the first 12 races of the season, compared to Coulthard's six.
Front-end grip the issue
According to Bright, it's turn-in that is causing him problems so far this season.
"We just haven't got enough turn," he confirmed.
"In qualifying you need a car that turns pretty aggressively. We thrown a fair bit at it the last couple of rounds to make it turn more aggressively, and we're still not getting enough. That's been the toughest part of our year.
"Fabian seems to be able to get it to turn better than what I can and what Dale [Wood] can. We're all trying to run the same set-up, we're combining all of our set-ups to work together better as a team.
"What we're doing is trying to make it turn better, but we're not there yet."