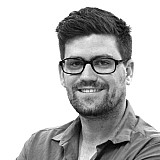 He may be nearing 500 V8 Supercars starts, but Jason Bright says he has no plans on stepping down as a full-time driver at the end of the 2015 season.
The Brad Jones Racing driver will celebrate his 500th start in Townsville in July, having made his debut in the category back at Symmons Plains back in 1997 for Garry Rogers Motorsport.
While paddock chatter has suggested that Bright may consider stepping down as a full-time driver at the end of this season, he told Motorsport.com that he has no plans on retiring just yet.
"I've still got a couple of seasons in me," Bright said.
"Obviously it all depends on the commercial reality of it all; if there's nothing available it's pretty hard to run around behind the cars! But I feel like I can still be competitive, I was on pole for the second last round last year.
"I need to go out there and get some good results between now and the end of the year, but I still think I've got a few years in me in V8s – as long as there is a drive available.
"And beyond that, there are plenty of other things for me to go an pedal around."
Year-to-year deal
Bright's spot on the grid for 2016 could hinge on his Brad Jones Racing deal, which currently runs year-to-year along with the BOC sponsorship. However, Bright is confident that he can do a deal with both sponsor and team for the new season.
"It's been year to year for a few years now," he told Motorsport.com.
"I have a good relationship there, so as long as something is available we'll keep making it happen. BOC has been a great sponsor of theirs, and I have a good relationship there, so we've just got to keep on working on that."