Get alerts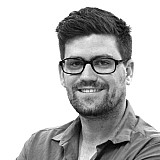 Jason Bright says winning the inaugural Jason Richards Trophy in 2013 is the biggest moment of his career so far, as the veteran closes in on his 500th ATCC/V8 Supercars start.
The Brad Jones Racing driver will make his 500th Australian Touring Car Championship/V8 Supercars start this Saturday in Townsville, having made his debut for Garry Rogers Motorsport at Symmons Plains way back in 1997.
Reflecting on his stellar career, Bright says that while winning Bathurst on just his second try in 1998 was a big victory, taking out the inaugural Jason Richards Trophy at Pukekohe in 2013 is the one that means the most.
It was a particularly emotional win not just for Bright but for the entire BJR crew, most of whom had worked with speedy Kiwi Jason Richards right up until his passing in 2011.
"My Bathurst win is obviously extremely special. It was my first V8 Supercars win, and probably my biggest win. That was a very special day, you can't really beat that one," Bright told Motorsport.com.
"But the one that meant the most, and the one that was very tense inside the car, was the 'JR' Trophy in New Zealand. That whole weekend we wanted to bring the trophy home for the first time.
"We'd had a good start to the year with Fabian and I both winning races, and that was the race that we really needed to bring home the trophy.
"It was a tense weekend. I went into the final race of the weekend with the most points, starting from pole, and I didn't have to win the race to win the trophy – but I still won the race.
"Winning that race, winning the event, bringing that trophy home, it was very special."