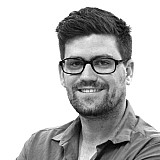 V8 Supercars veteran Jason Bright says anything could happen at Hidden Valley this weekend, with the new surface expected to make a "massive change".
Darwin has traditionally been a low-grip surface, causing havoc with tyre wear and forcing drivers to use the kerbs hard in order to find grip.
Ahead of this weekend's SuperSprint round in the Top End, the Hidden Valley circuit has undergone a complete re-surfacing, which Bright says will shake things up and make it a whole new challenge.
It even could, he says, change the actual racing line.
"I think it will be a massive change," Bright told Motorsport.com.
"If it has been re-surfaced with a grippy surface, that will be a massive change for Darwin, like we saw in Perth in 2004.
"It will be a very big change the way the car behaves around the whole lap. In Darwin, you actually find yourself doing things like running the kerb out of turn four as wide as you can to get some grip, because the concrete is gripper than the track.
"And you're hugging the wheel over the inside of kerbs to drive and use the inside of the kerb for grip. So a lot of characteristics of that track will change if it has some grip."
This weekend will mark Bright's 220th Australian Touring Car Championship/V8 Supercars round start. He also holds both the qualifying and race lap records at the Hidden Valley circuit, having set them in 2002 and 1999 respectively.